I did something awfully glamorous this past weekend. 
I left my three men behind, got on a plane, and attended the Reward Style conference in Dallas. 
Reward Style, is, in my opinion, the affiliate program for bloggers.  If you've ever noticed that some of my shopping links start with "http://rstyle…." even though the item is, say, from the Gap, that's a Reward Style affiliate link.  I get a small commission using those links, and that commission is the reason I've been able to dedicate so much of my time to this blog.  So thank you for supporting me.  (And if any of you are bloggers and have questions about Reward Style, I'm always happy to chat – just shoot me an email.)
So yeah – this conference.  We had brand meetings, presentations on SEO (which, by the way, I've been totally ignoring up until now – for shame!!) and round table discussions.  I learned a ton.  And then?  After all of that?  
Fancy parties.  Oooohhhhh yeeaaaahhhh.
Friday
Brand meetings, and then…hello.  Happy hour with Kate Spade NY.  How fun is this?
 Being such an engineering nerd myself, when some of the developers asked if I'd like to join their pic of "all the solid color dresses"…
…of course, right?!  And I refrained from pointing out that technically, I was in a romper.  But how awesomely terrible is that rib photo prop?  Ugh.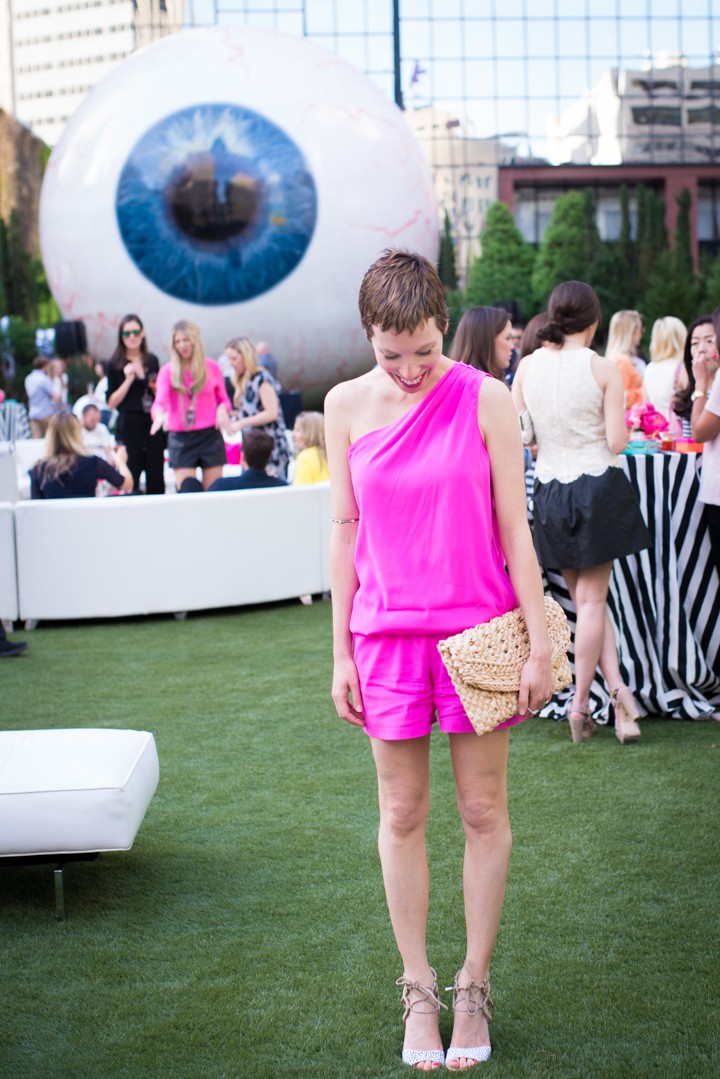 wearing:
romper:  Ramy Brook Lulu Romper
bag:  Anthropologie Straw Clutch
bracelet: Stella and Dot Bangle bracelet (sold out)…try Stella and Dot Arrow Bangle Bracelet
shoes: Dolce Vita Hexen Ankle Wrap Sandals
lipstick: Tarte Power Pigment in flush
Saturday
Yes, I wore flats. 
In hindsight, I really should've called this post, "Little Engineer Goes to Dallas".  I was seriously one of the shortest bloggers there.  (And, I suspect, one of the oldest but we're going to all pretend that I never said that and no one noticed mmmmkay?)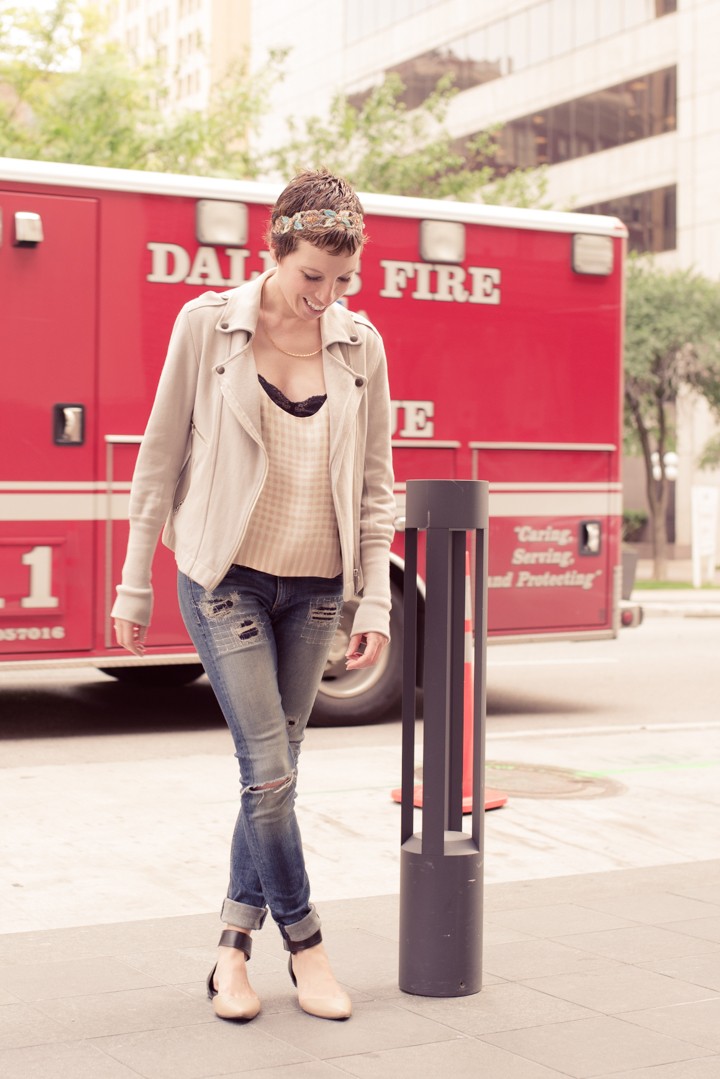 wearing: 
headband: Anthropologie Floral Headband
jacket: Rag and Bone (from eBay)…try Shop Ruche's Moto Jacket in beige
tank: Alasdair (gone)…try Chaser's Floral Tank at Shopbop
bra: Cosabella Lace Bralette at Nordstrom
necklace: Gorjana Taner Collar Necklace
jeans: Rag and Bone (gone)…try Karen Millen's Patched Jeans at Bloomindales
shoes: Stylemint Anise Flats
Saturday Night!
I felt all old-Hollywood glamorous.  I so love a stunning dress, and Milly NY never disappoints.
BTW – the straps of this dress are ever-so-slightly stretchy, and if you are comfortable nursing in a strapless bra, I think this dress would work.  (And I'm wearing Spanx, obviously.)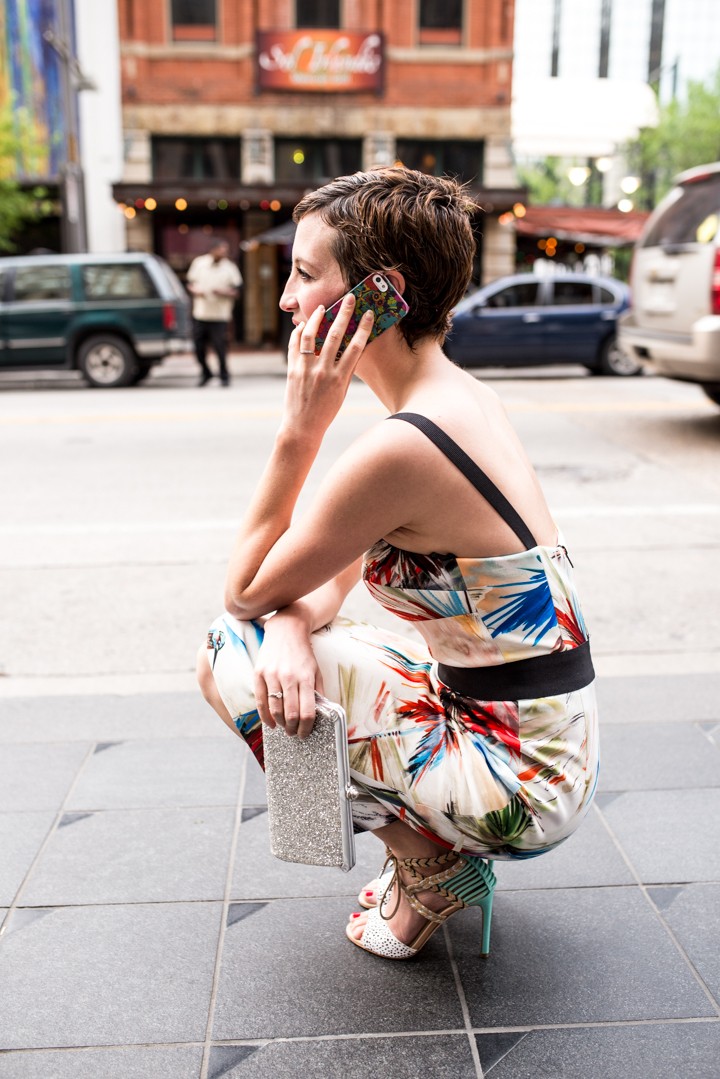 wearing:
dress: Milly NY Contrast Print Dress
shoes: Dolce Vita Hexen Ankle Tie Sandals
purse: My mom's old prom purse…try J.Crew Factory's Gold Envelope Clutch
iphone cover:  Red Dirt (gone)…also love Red Dirt's Orbit Phone Case.
The most important part: Spanx High Waist Smoother Shorts
Want to hear something crazy?  I didn't miss the boys.  Not. Once.  I was so busy, I barely got a chance to call home, and the alone time felt like something precious…a gift.  
This weekend was a gift.  
I left for Dallas on Thursday in a frazzled state, struggling with both guilt and motivation (talk about a horrible downward spiral)…yet I returned home refreshed and focused.  An inspiring conference can have that effect (and a pretty little dress doesn't hurt), but it was the space to think that had me energized, like I was gulping air back into my lungs after being submerged for too long.
And yet.  Back home, snuggled in with my boys, I felt a sense of relief.  
Mamas home.  Where she belongs.
And I do belong here, right here, with them.  But part of me wants the expansive me, the one with vision, and personal goals that are very different from the goals of a mother.  I guess that's the trick, right?  This balance of what you can give vs what you need; I want it all.
I have no answers.  But the next time I feel myself going under, sinking down, I'll just stretch out my legs, feel for the bottom with my feet, and push.  I'll push up to the surface and breathe.
xo,
S
ps.  A big, HUGE thank you to Trend Survivor for taking my outfit shots in Dallas.  Nina, you and your INSANE shoe wardrobe rock my world.  xoxo