Being women and moms who are most likely doing all the things everyday, it's hard to think about adding anything else into the mix. I will say, these first few weeks of Kindergarten have almost taken us out over here. We are tired. Hangry. Trying to get into a new routine and schedule while having all the emotions is hard, y'all. You know this.
So, coming here to preach about how you can also add Mother Earth to your to-do list is not my goal today. Coming here to help show you easy ways to make better choices for our earth? Yes. Choices that work pretty quickly and pretty seamlessly into your already busy lives? Yes. I want to devote more time to caring for our planet that we have carelessly neglected. But I also know that right now I cannot do all the things I want. I CAN do some of these easy steps to reduce plastic, waste, and water usage. And I do feel good about that.
Being in Portland, there is a strong pressure to do all the things when it comes to…well, everything fair, socially just, and ecologically responsible. It's what I love about this place and it's what stresses me out, too. I love that our garbage is only picked up every other week. I love that our recycle bin is twice the size of our garbage can. I love that the city picks up compost waste. I love that most of the people I meet here want to do the right thing for other people and for our planet. It really isn't that far off from the show Portlandia, you guys, and we Portlanders wouldn't have it any other way. But I also have to be realistic and recognize what I can handle at any given time. This perfectionist is slowly getting better at that. So, I give you, the easy start guide to buying more earth-friendly products for the home. I've chosen some products that I have personally switched to over the last year or so, to help me sleep better at night without having to spend too much mental energy in making the switch.
Earth-friendly: Simple Product Switches for Daily Tasks
Many restaurants, coffee shops and bars in Portland are going strawless. Plastic straws are piling up in landfills and in our waterways, and this is one of the easiest switches to make when it comes to reducing plastic. Most of us already know about metal straws, so these are nothing new. But, some are averse to them because metal banging against your teeth isn't the most pleasant thing in the world to experience. If that bothers you, these straws with colorful rubber tips should be a nice upgrade. Stick a couple in the car and a couple in your purse, and switch them out when you bring in the lunchboxes each day from the car. It's all about creating those new habits. Shana loves these pretty colorful metal straws, too!
These little babies are great. I've been using them for a couple of months now, and not only do they reduce the use of disposable cotton pads (which take a ton of water to produce) or makeup wipes (which have plastic packaging even if the wipes are biodegradable), but they remove makeup with just water! I still use them to apply toner, too, and that has honestly been a bit more of a switch for me. But once I started keeping them in my little glass jar that houses my cotton pads, I started using them the same way. I throw them in the wash with any load I'm doing, and they're large enough that unlike all of Sienna's socks in our house, they don't get lost. These are really a great find.
It dawned on me that though I use an electric toothbrush most of the time, I'm still buying plastic toothbrushes for Pinky and Sienna (who, for some reason, don't like electric toothbrushes…go figure). I use these for travel and I really like them. My next switch is to toothpaste tablets so I'm not tossing giant plastic tubes in the trash monthly. Plus, they're adorable.
These lovely sheets of cloth are covered in beeswax, which allows them to seal using the warmth of your hands onto the top of just about any dish, or also to themselves. They successfully replace plastic wrap for most uses in the kitchen. I love the variety pack and seriously use these to cover bowls of salads or leftovers, or the small one for wrapping up a cookie or dried fruit for the lunchbox. I've been using bee paper for a couple of years now and really like it. The only thing I have found it doesn't work well with is on metal dishes or to wrap anything really greasy for any length of time (aka hard cheeses for months – works fine for a week or so). They also don't recommend wrapping meats. Bonus? They smell like honey.
These handy, durable bags replace Ziploc bags and single-use plastic bags. They're great for lunches, storing half-eaten-by-the-five-year-old banana leftovers, or for almost any other use for which you'd use a Ziploc bag. I have two right now and would like to get more. It's taking getting used to reaching for these instead of a plastic bag, but I'm impressed how great the seal is and I'm impressed with their quality. They're oddly satisfying to close, too, not annoying, if that makes your decision easier. Ha.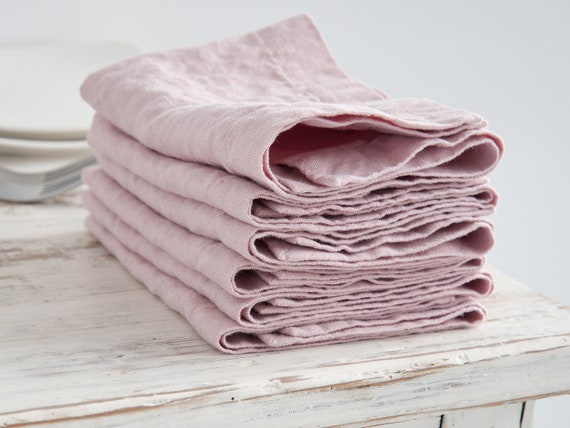 This one is obviously nothing new, but not only is it earth-friendly to use reusable napkins, it's cheaper! Paper products DO break down in the landfills, but they all use water and trees to create, so while we could go on and on down a scary spiral, let's just focus on the fact that using cloth napkins is a good choice. I adore linen napkins or 100% cotton. They wash so well and get softer with use.
Do you have any products that have made some eco-friendly switches in your house easy peasy? Please do share! You guys always have the best suggestions. I hope these are helpful as you try to make some swaps in your daily routines. It takes a village for sure, and we are all here to support each other and learn together.
xo,
L
Be sure to follow me on Instagram @elletrain to see daily outfits, views of all things Portland, and of course Sienna's dance moves. Kitchen dance parties keep us sane. And don't forget about LikeToKnow.It for easy peasy shopping of the looks I'm wearing!