Last Friday, Raines and I met a friend (and her two little girls) at Boulder's Clementine Studio for some kiddo art classes.  Clementine Studio is a long-time favorite of mine (R and I are both addicted to their play-dough and other non-toxic art supplies), but their classes are truly inspirational.
The classes have "stations" set up all over the room – there might be glitter painting on one table, some kind of toddler-friendly sculpting at another, and typically involve the most creative use of supplies I've seen to date. 
But our very favorite part?  The outside.
Lisa, the Director, had a large wooden window converted into a free-standing, glass easel.  Kiddos can stand on either side and paint.
Then, when the painting slows…Lisa hands out sheets of paper to press onto the painted areas, making cool impressions.
And of course, getting out soapy buckets of water and a squeegy is also part of the fun.  Here are a few more pics:
Lisa also created a painting swing that my little guy couldn't get enough of:
Kate joined him on the swing.  Older kiddos can probably share the swing and paint, but R couldn't quite reach.  He improvised by just painting the swing.
I, of course, was all about their 15 ft easel, set up Jackson Pollock-style with large blobs of paint and flyswatters (!!) for some serious splatter painting (you can see it in the background of the above pic)…but after a very short time, R got distracted by tower-making.  Next time, for sure.
Local gals, a trip up to Boulder to visit Clementine Studio is well worth the time.  I always leave feeling refreshed and completely inspired.
This post is part of Aussie-based, Childhood 101's We Play series, where every Tuesday, Childhood 101 hosts a link-up of play ideas from bloggers around the globe. While their seasons are opposite ours, there's enough ideas generated in their Tuesday We Play link-ups to serve up a healthy dose of play inspiration whether you are stuck indoors or out.  Additionally, the writer of Childhood 101 is an Early Childhood Education Teacher, and her articles on types of play (Creative, Constructing, Physical, and Imaginative) are not to be missed, nor her Invitation to Play ideas. Really, I could go on and on.  This is one of the few blogs that I can spend hours reading.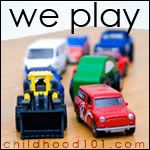 Man, I love this stuff.  It is just so fun being a mom. 
xo,
S