Being a fan of Athleta in general, when I heard they had a line of denim released I had to try it out. I mean, I am the jean girl after all and any time I can subject myself to trying on more jeans, well, I seem to always jump at the chance. Haha. Is something wrong with me? Anyway.
Athleta denim purports a special fabric called Sculptek that you apparently *could* do yoga in if you wanted. Whoa. It says it offers 360 degrees of stretch and so who wouldn't at least want to try these out…
My store had the Sculptek Skinny Jeans in three of the washes: Gray, Dark Wash and Overdye Wash. They didn't have the lightest Biscayne wash available, but I'll link to those below. They also didn't have the newer Sculptek Slim Straight Jean in Agate Wash which looks good, too. The style offerings they have right now are a little confusing because not every fit is offered in every wash and some fits are only offered in one wash. Hmm. The Skinny Jeans have the most wash options though, so let's check those out.
Gray Wash Sculptek Skinny Jean
The Gray wash was what I was drawn to first in the store and shot more pics in these because it's easier to see the details in this shade. First off…they are SO soft. Secondly, they run large I'm wearing a Size 2 here and I'm typically a Size 4 in jeans. (*to note: the overdye wash runs more TTS – see below). Thirdly, they're good on the booty! I found that in all the pairs I tried. Two thumbs up for a jean with a flattering booty. And finally, I love the rise on these. I can't find the exact measurement on the site (doh) but it is mid-to-high rise.
The length is long on my alllmost 5'4″ body but I'm liking them cuffed. Seriously you guys, these are super soft. I wasn't totally in love with how they pulled a bit on the backs of my legs and there is some odd creasing as you can see in this above shot, but that may have been my particular pair. I like the gray wash and how the fading is placed. These are a solid gray skinny jean, especially if you're looking for a super comfy pair…to do yoga in? Haha. Maybe.
Dark Wash Sculptek Skinny Jean
The Dark Wash pair was nice, too. They were just as soft and amazing feeling as the gray. I'm also wearing a Size 2 here as both these washes ran big. It's harder to see the exact wash on the back here but it was a bit darker on the back which is more flattering. I think I may like this wash a bit better than the gray simply for that reason.
Overdye Wash Sculptek Skinny Jean
The Overdye wash was interesting. It's a lovely dark flattering wash, but they ran actually true to size, which seemed odd since they're the same line and fit of jeans. Hmm. But also they weren't nearly as soft of a fabric as the other two. They were still comfortable but I think were I to buy a pair of these jeans I'd buy them for comfort and would go with one of the first two washes.
Other Fits: Crop & Slim Straight

The jeans (in most of the washes) also come in a crop version, but I didn't care for the way they looked online and I don't think my store had them in stock. If you're not into cuffing they might be the way to go, but for some reason they just didn't look great to me. I could totally be wrong.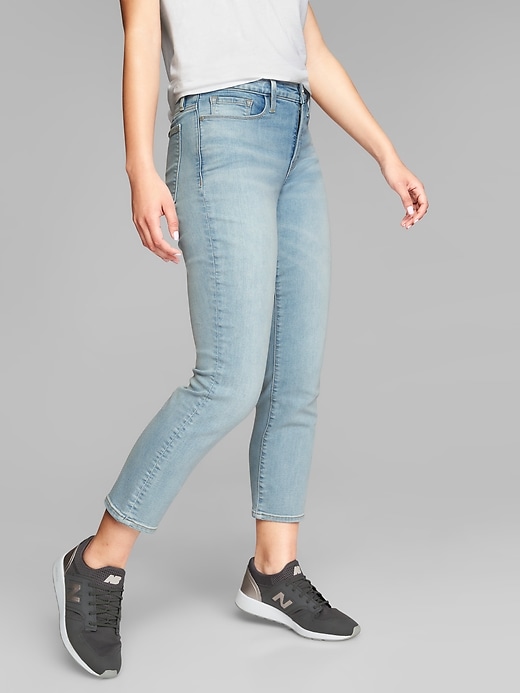 This is the Slim Straight pair in Agate wash and these look good and got good reviews. The website says these fit true to size instead of large, so no need to size down if you try this pair. It seems like they are offered in another medium wash color, but those look wider in the leg even though they have the same name, so that's a bit confusing.
Shop Athleta Sculptek Jeans

The Take-Away
Pros
Athleta Sculptek jeans are super comfy, flattering on the booty, and reasonably priced. Many of the reviews said they fit great on an athletic body (makes sense!) If you need a good travel jean, I say yes. Or if for some reason you need a jean to do yoga in, do it mama. I do love the stretch and comfort of these and I'm pretty sure that was their main goal with making the line. They are also offered in a range of sizes which is great. 0-16 in Tall & Regular and 0-14 in Petite. Athleta do a nice job in general of offering various lengths and sizes in most of their clothing.
Cons
The sizing between styles and washes seems to be inconsistent in these jeans. More of the newer styles are true to size, while some of the first washes that came out seem to run big. Be sure to pay attention to the notes on each one before you order! I'm also a fan of different washes than they are offering, especially a black jean, so that is a no-go for me right now. Hopefully they'll be adding more variety soon!
Have you tried these out yet? What do you think? Would love to hear your thoughts!
xo
L
Be sure to follow me on Instagram @elletrain to see daily outfits (will it be joggers or jeans?), what I'm currently whipping up in the kitchen, and of course, Sienna's dance moves.