My reaction to Shana asking if if I would be interested in joining the #myeverydayedit fun on Instagram looked something like this: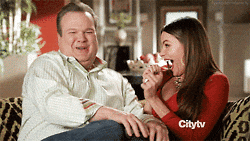 So to say I am excited is an understatement.
And just in case you don't know what's got me acting as giddy as a school girl at her first slumber party,  #myeverydayedit is a hashtag on instagram that Shana (@shanachristine) and others from The Mom Edit team (@camilledipaola, @scottiliz) use to post photos of their everyday outfits through out the week.
I've been following the #myeverydayedit posts since the get-go, admiring from a distance and trying to work up the nerve to join in. I think it's such a cool concept and so much fun to see everyone's unique individual style expressed through their day to day outfits.
To give you guys a better understanding of what you could expect from my posts, I thought it would be helpful if I tried to describe my own style… but I'd never really sat down and thought about my "style" in any definitive terms before and as it turns out, isn't as easy as I thought it would be.
So armed with my most serious researching techniques (aka a bottle of wine and pinterest)  I stumbled upon this quote:
I think style is an expression of our individuality. Choosing what we wear is just another way we can express who we are and what we are feeling. It's amazing how many unique variations of "lazy bum" I can come up with 😉  And this quote is really what #myeverydayedit is all about. There is no right way or wrong way to dress- what makes style fun is each person's unique take on the clothes they choose to wear.
So….(shameless plug)…if you haven't already- you should join us on Instagram for some fun. We don't bite!
My personal style is probably best described as  "boho", eclectic, and a bit adventurous. Comfort is high on my priority list.
Outfit #1:

Outfit details:
sweater: Cambridge cable turtleneck from J.Crew, $98.00
jeans:  Diesel Fayza boyfriend jeans available on Amazon, $350.00 (hands down my favorite and also most expensive pair of jeans I've ever owned)
boots: Clark's Original Desert Lace-Up boots, Amazon, $120.00 (very comfortable, I wore these while walking all around Philly today with Shana and fam…. and go with just about everything)
Outfit #2: 

Outfit Details:
top: Lace up back oversized jumper in rust from Misguided , on sale for $40.80
skirt: Slinky rushed skirt in heather grey from Velvet by Graham and Spencer available on Amazon, for $66.60
tights: No Nonsense Women's Super Opaque Control Top tights (can't go anywhere without a good pair of control top tights) Amazon $6.59
ankle booties: Carlos by Carlos Santana Helene's Boots available on Amazon reasonably priced at $47.64, and pretty comfortable too (I am not great in heels of any length but I did fine walking around Philly in these yesterday without breaking an ankle)
 Outfit #3: 
 outfit details:

jacket: LA Hearts longline Anorak Jacket from PacSun, $69.95, currently buy one get one for 50%.  I seriously love this jacket, it's lightweight but super comfortable and wears well with just about everything
top: I couldn't find the exact top I am wearing in the photo, I bought it at Forever21 last summer but the most similar option I could find (high neck, lace accents and empire waisted) was this Michelle Keegan Loves Lipsy top from Asos, $33.50
jeans: Levi's 721 High-Rise Skinny Jeans available at Macys, currently on sale for $44.99. I don't think you can tell, but I cut the hems of my pair at the ankle to make them a little bit of a high water version, so they don't come like that
mules: Rachel Comey Mars Mules from Shopbop, $390.00
Outfit #4: 
Outfit Details:
sweater: Free People oversized dolman sleeve sweater in cranberry, on Amazon, $43.95. This is one of my sweaters always in rotation
shorts: Genuine suede shorts from forever21, $39.90. Great leather quality for the price
tights: Hue black out tights, Amazon, $18.5o
booties: Carlos by Carlos Santana Helene Booties, Amazon, $47.50
rings: Midnight Wanderer Ring Set in Gold from Nasty Gal, $12.60 (currently 30% off on their website)
Outfit #5:  
outfit details:
sweater:  Tristan Waffle Sweater by Feel the Piece available on Shopbop, $189.90. (Seriously one of the most comfy sweaters I own)
slip dress:  (I bought the one I am wearing last year is from DailyLook and is no longer available) I found some similar options though like the  Kathleen Floral Slip Dress from at 6pm, $19.99 and the 'Black Night' Chemise at Nordstroms for $58.00
jeans: I lucked out when I found these J Brand Photo Ready Cropped Mid Rise Skinny Jeans available at Shopbop, $220.00. They have LOTS of stretch in them which means I will be wearing them a lot over the Holiday season
ring: Vanessa Mooney's The Nova Silver Ring at Asos, $63.00
---
Your Turn!
This is my favorite part, there are so many inspiring #myeverydayedit outfits, it's hard to narrow it down, but here are five outfits I found especially inspiring.
1.
@krembdelakremb, who basically slays every outfit she wears. I especially love this Thanksgiving family photo, with everyone coordinated in plaid, and I LOVE the converses with the skirt!
2.
@agirlandherloves: I am drooling over these striped pants!   
3.
@tracy_imaf: and her gorgeous sparkly necklace, bracelet, and leopard print heels, who single handedly put me in the Holiday style spirit 🙂
4.
@momlifeandstyle with her perfect pre-holiday comfy errand running outfit (Those shoes are everything).  
   5.
And finally, @elletrain: I love everything about this photo: the outfit AND the pose. I laughed out loud at your caption because I've been there. With all of the weird things and awkward poses  my neighbors have probably seen me do, I might as well accept my new role as the crazy lady of the neighborhood.