Fall is here!….At least in the Northwest, and I couldn't be happier. It's easily my favorite time of year for many reasons, one of those being soup. Sounds exciting, I know. But if you're a fellow soup fanatic like me, you get it. I'll admit I wasn't always excited about soup…until I started making my own. There is nothing that compares to homemade soup, ever. And homemade soup made with roasted veggies? OMG even better. The last recipe in this post is what made me a convert.
I've included some of my absolute favorite recipes here, and some that offer a bit of variety in style and flavor. There's something for everyone, I think. All of these are easy enough for everyday, but most are impressive enough to serve to guests. Last winter we had a soup party with friends, and we each made our favorite and shared them at the meal. It was a blast.
Our Favorite Unique Soup Recipes
Spiced Carrot & Red Lentil Soup – I've talked about Andrea's recipes before, and you'll see me making quite a few of them on my Instagram stories. If you're like me, you will die over her cookbook, and how gorgeous and rustic and beautiful it is. She creates the best fresh, seasonal, delicious recipes that aren't fussy but are full of flavor. I make this soup for guests a lot and it's impressive yet easy, especially in the multi-cooker (instant pot) (you can make the whole recipe in it and the lentils are perfectly cooked every time). We top ours with a little plain Greek yogurt and pepitas for some crunch. YUM. You may notice this links to barre3 blog…Andrea has a farm outside of Portland and has contributed some of my favorite B3 ALL IN recipes!
Easy Lasagna Soup– Lena's Kitchen Blog – I made this for the first time last week and it's so yummy. It tastes like the best cream of tomato soup with noodles and ground beef for a totally lazy-gal's version of lasagna. This went in my recipe box for sure. Oh, and don't skip the heavy cream. Lena is a local friend of mine and has the most gorgeous blog and delicious recipes.
Cream of Broccoli Soup – Cosette's Kitchen – I had never made homemade cream of broccoli soup before trying my friend Cosette's recipe a few weeks back, and OMG I will never go back to store-bought. This was amazingly delicious. I mean, of course, because butter.
Love Soup has tons of amazingly delicious vegetarian soup recipes. My favorite is the French Lentil Stew with Roasted Carrots & Mint (this looks like the recipe here…). If you like lentils, it may become your new favorite, too. I highly recommend this book and have given it as a gift a few times to fellow soup fans. It's lovely in an old-school, classic way. If you're not veggie, you can do what we do with many of her soups and add bacon, sliced sausage, or chicken to the bottom of the bowls before pouring on the soup for some added protein.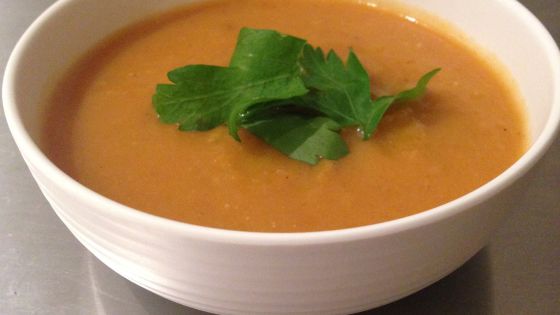 Curried Pumpkin Sweet Potato Soup – This recipe is a new favorite! Sienna and I just had it on our first really cool evening here. It is fabulously good and a great way to use up part of a can/carton of pumpkin puree, you know, the part you don't use when making a batch of cookies or pumpkin coffee creamer. I served this also with pepitas on top, and sliced como bread with butter and sea salt. Mmmm.
Greek Avgolemano Soup – This is a wonderful take on chicken soup, Greek style. You temper the egg yolks with broth to create a really rich but dairy-free soup. And the lemon just seriously makes this sing. I tried it years ago, and it was a slightly different recipe using orzo. This sounds easier, delicious and very similar. It'd be a great way to use leftover rice. You will seriously crave this soup once you have it. I'm putting it on this weekend's menu now as I write this. Ha.
Recipe Tip
In today's world of being bombarded with information from every direction, I've found a simple way to keep track of all the recipes I try that we really like. Know what it is? A recipe box. Revolutionary, I know. I started using one 5 or 6 years ago though, and it works so well. When I make a recipe we really adore (like THE fluffiest pancakes, THE most flavorful soup, etc.,) I write it down and put it in the recipe box. Not everything makes the cut, but now after a few years, I have a good selection of soups, desserts, breakfast dishes, entrees and sauces in my repertoire to pull out when I want or need a spectacular dish. When people ask for a recipe of mine, I can snap the card and send it to them. It's a special, analog way to cherish the time and effort that goes into cooking, and I love it. Here are a few of my favorite boxes if you want to start your own:

We'd love to hear your favorite soup recipes, too! I know there are so many out there, so it's always nice to have recommendations for those that are tried and true. Happy Autumn, everyone!
xo
L
Be sure to follow me on Instagram @elletrain to see daily outfits, what I'm currently whipping up in the kitchen, and of course, Sienna's dance moves. And don't forget about LikeToKnow.It for easy peasy shopping of the looks I'm wearing!